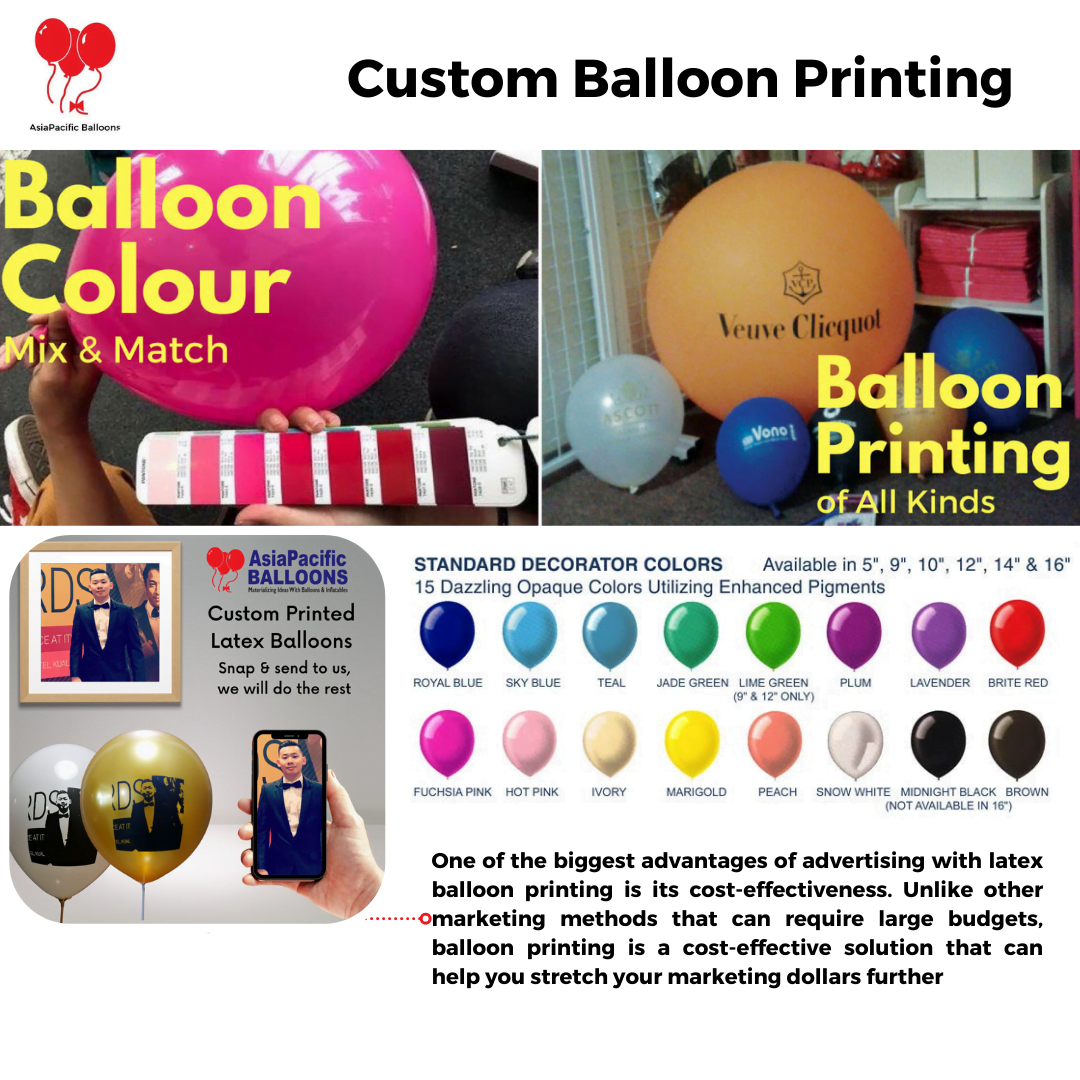 Balloon Printing Supplier Malaysia
Elevate your events with customized balloons from the leading balloon printing supplier in Malaysia. We offer balloon printing services with low minimum orders, ensuring you get the perfect promotional accessories for any occasion. Explore a variety of latex balloon printing sizes to suit your needs. Make your event stand out with personalized balloons that leave a lasting impression.
Low Minimum Order Balloon Printing
Unlock the power of personalization with our low minimum order balloon printing services. Whether it's a small gathering or a grand event, AsiaPacific Balloons offers you the flexibility to customize balloons with your desired designs and messages, all with a low minimum order requirement. Elevate your celebrations with unique printed balloons that make a big impact, no matter the size of your event.
Balloon Promotional Accessories
Enhance your balloon promotions with precision using Balloon Promotional Accessories from AsiaPacific Balloons. We offer a comprehensive range of essential balloon accessories, including sticks & cups for convenient handling, sturdy balloon stands for impactful displays, and efficient balloon blowers for effortless inflation. Trust us to fulfill all your balloon printing requirements, providing you with the tools you need to make your promotional campaign a soaring success.
Latex Balloon Printing Sizes
Discover the ultimate in balloon customization with AsiaPacific Balloons' comprehensive Latex Balloon Printing Sizes service. From small to large, we offer a full range of balloon printing options on all latex balloon sizes. Elevate your events, promotions, and celebrations with personalized balloons that showcase your brand or message in style. Trust AsiaPacific Balloons for top-notch balloon printing services that make every occasion truly unforgettable.