AsiaPacific Balloons Milestone Projects
Materializing Ideas With Balloons & Inflatables
AsiaPacific Balloons Milestone Projects showcases our proudest achievements in the inflatable industry. From breathtaking aerial displays to awe-inspiring installations, each project represents a remarkable milestone in our journey. With precision craftsmanship and boundless creativity, we've brought dreams to life, transforming events and marketing campaigns into unforgettable experiences. Join us on a captivating journey through our portfolio, where innovation and excellence converge to elevate your vision to new heights. Discover the magic of AsiaPacific Balloons Milestone Projects and let us take your ideas to the skies.
Materializing Ideas With Balloons & Inflatables
Gamuda Gardens Blimp & Giant Advertising Balloons
Experience an unforgettable property development launch with AsiaPacific Balloons. Our 30-foot-long Blimp inflatable and seven Giant Advertising Balloons take to the skies, creating a mesmerizing aerial display that leaves a lasting impression. Elevate your event with our innovative and grandiose inflatables, designed to captivate and inspire. At AsiaPacific Balloons, we turn visions into reality, ensuring your occasion soars to unparalleled heights.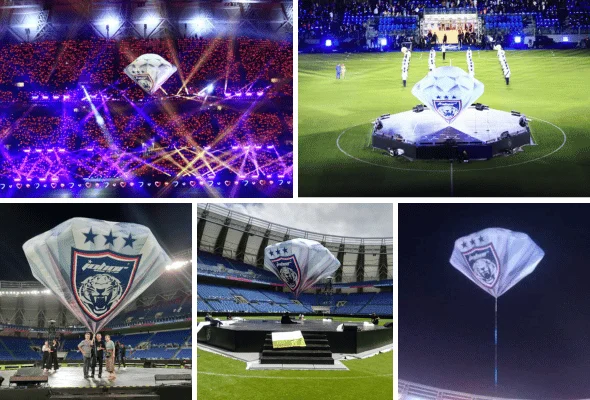 JDT Football Club Stadium Opening Ceremony
Celebrate the momentous JDT FC new stadium launch with AsiaPacific Balloons, where we take immense pride in crafting an unforgettable opening ceremony. As a part of this prestigious occasion, we present a breathtaking Diamond-shaped floating Inflatable, capturing the essence of brilliance and success. Witness this striking spectacle as it gracefully hovers in the air, symbolizing a shining future for JDT FC. At AsiaPacific Balloons, we elevate events with our innovative and mesmerizing inflatables, ensuring every moment leaves a lasting impact.
SVO Grand International Fiesta 2022
AsiaPacific Balloons proudly contributes to the excitement of SVO Grand International Fiesta 2022 with our masterful production and installation of two 30-foot-tall Giant Hot Air Balloon Replicas. As photo booths for festival goers, these captivating inflatables elevate the event, providing a perfect backdrop for cherished memories. Join us in celebrating this grand occasion as we take your festival experience to new heights, making it an unforgettable journey.
Christmas Hot Air Balloon Mall Decorations
Step into the enchanting world of Christmas wonder with AsiaPacific Balloons, as we proudly join forces with two prominent shopping centers in Malaysia, Mid Valley, and One Utama. Experience the magic of the season with our whimsically designed Christmas Hot Air Balloon Replica, adorning these centers in extravagant splendor. Embrace the festive spirit as our stunning decorations transport you to a realm of joy and merriment. At AsiaPacific Balloons, we elevate celebrations with our artistry, creating unforgettable experiences that light up the Christmas season.
Mid Autumn Inflatable Moon & Rabbit
Celebrate the enchanting Mid Autumn festival at Malaysia's Sungei Wang shopping center with AsiaPacific Balloons. As honored collaborators, we proudly present the Giant Inflatable Moon and Giant Inflatable Rabbit, adding a touch of magic and wonder to the festivities. Immerse yourself in the captivating allure of these inflatables, bringing joy and excitement to visitors of all ages. Let AsiaPacific Balloons elevate your event with our whimsical creations, making this Mid-Autumn celebration an unforgettable experience.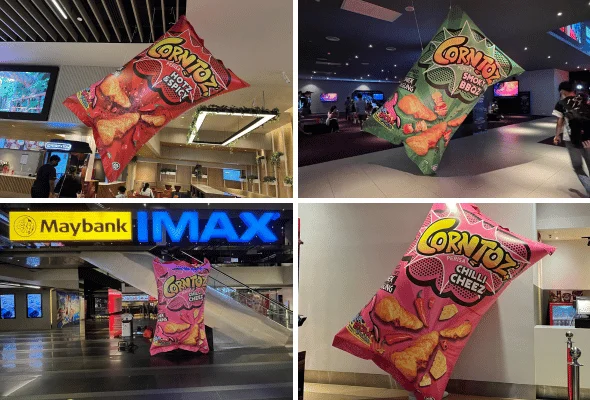 Corntoz Snacks Inflatable Replica Display
Elevate your brand presence with AsiaPacific Balloons' prestigious Corntoz Snacks Inflatable Replica Displays. Proudly showcased in numerous cinemas across Klang Valley, these captivating inflatables leave a lasting impression on audiences. Embrace the power of innovative marketing and let our expertly crafted displays elevate your snack brand to new heights. At AsiaPacific Balloons, we take pride in transforming visions into remarkable realities that resonate with your target audience.
Netflix's Series Money Heist Premier
AsiaPacific Balloons proudly presents our prestigious collaboration with Netflix's Series: Money Heist. Witness the captivating spectacle of our Premier Giant Balloon, gracefully installed on a building overlooking the iconic KLCC. Elevate the excitement of this much-awaited premier with our awe-inspiring inflatable, making a bold statement that leaves a lasting impression on all who behold it. At AsiaPacific Balloons, we bring your favorite shows to life, ensuring unforgettable experiences that resonate far beyond the screen.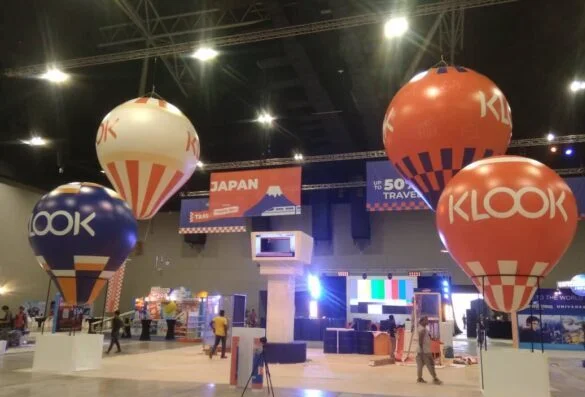 Klook Hot Air Balloon Replica Decoration Display
Embrace the enchantment of a Klook Hot Air Balloon Replica Decoration Display, brought to you by AsiaPacific Balloons, at the prestigious MITEC convention center. As an esteemed supplier, we take great pride in delivering a mesmerizing spectacle that will elevate the ambiance of your event. Immerse yourself in the magic of our intricately crafted replica, designed to captivate and leave a lasting impression on attendees. With AsiaPacific Balloons, your occasion will be adorned with unparalleled charm and allure.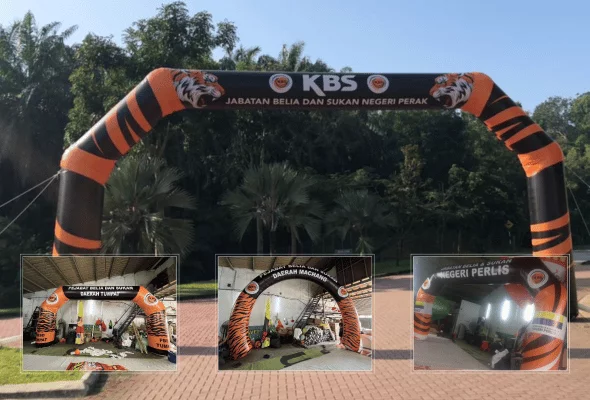 Kementerian Belia dan Sukan Malaysia Inflatable Arches
Elevate your events with AsiaPacific Balloons' esteemed Custom Inflatable Arches. As a chosen supplier to the Ministry of Youth and Sports Malaysia, we take immense pride in delivering exceptional inflatables that leave a lasting impact. Witness the seamless fusion of innovation and craftsmanship as our Inflatable Arches proudly adorn your gatherings, creating a captivating entrance that reflects the essence of your occasion. With honor and dedication, AsiaPacific Balloons ensures your events are adorned with unparalleled grandeur.
Vans Shoes Inflatable Replica
tep into the world of larger-than-life product launches with AsiaPacific Balloons. Our show-stopping 30-foot-long Inflatable Replica of a Vans shoe commands attention and elevates your event to new heights. Captivate your audience with this eye-catching masterpiece, meticulously crafted to embody your brand's essence. At AsiaPacific Balloons, we pride ourselves on delivering unforgettable experiences that leave a lasting impression. Witness the power of innovation and imagination as we bring your product launch dreams to life in spectacular fashion.
Need Help With Easier Industrial Solutions? We Are Experts!